HELP US GROW AND EXPAND BARB'S BEER!
Special thanks to all who supported Tom's run at the Boston Marathon in 2016. Tom (left) ran the marathon to create awareness for our effort to bring Barb's Beer to Boston and the east coast off our success in Bellingham and Seattle since 2014.
WE'RE NOW READY FOR A BOSTON and MA LAUNCH!
Purchase Tom's TWO Boston Marathon books – proceeds support effort to expand Barb's Beer to Boston and the East Coast:
Tom's novel, RUNNER IN RED, a love story, family drama and mystery, will be released APRIL 1 – buy an advanced copy to support the Barb's Beer cause at runnerinred.com.
Tom's book (Just Call Me Jock, right) which he wrote with Jock Semple and Johnny Kelley in 1982 and was re-released in 2016 to raise funds to support the Barb's Beer Foundation and it's cause. Purchase a copy on Amazon
Check "Partners" on this site for a listing of MA bars and restaurants that have committed to serve Barb's Beer (building on our "base" of support in Seattle and WA State.)
Barb's Beer is being brewed on the east coast by the Trappist Monks who operate Spencer Brewery.
$100 SPECIAL!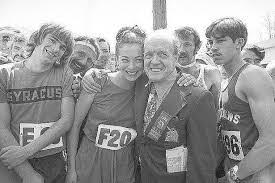 Donate $100 to the cause
and we'll send you a Jock
book signed by Katherine
Switzer!
Donate in General
THANK YOU FOR CONSIDERING A GENERAL DONATION TO THE BARB'S BEER FOUNDATION
Your generosity in making a donation to the cause will help us find a cure for lung cancer in Barb's name. Our "Racing to the Cure" campaign fulfills Barb's commitment to support the efforts of Dr. Howard West, her oncologist at Swedish Hospital in Seattle. Funds generated from Barb's Beer support GRACE (cancerGRACE.org) the world renowned charity founded by Dr. West. Read more on our STORY page.
The Barb's Beer Foundation is a 501c3 non-profit charity, and donations are tax deductible.
To donate make checks payable to Barb's Beer Foundation and mail to:
Barb's Beer Foundation 1711 Ellis Street Suite 201 Bellingham, WA 98225
Alternatively, you can click the button below to donate to Barb's Beer via Paypal using credit or debit cards.
If you have any questions, contact Tom Murphy at tom@tommurphy.org