BARB'S BEER  |  THE STORY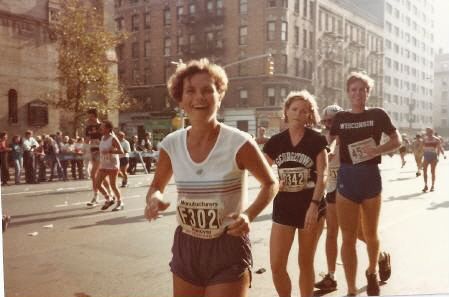 BARB'S STORY: Barbara Murphy was a great runner, a talented interior designer and a wonderful wife, mother and friend. Though she never smoked in 2007 she was diagnosed with lung cancer out of the blue. She fought it valiantly for six years before passing away in December, 2013 at age 61. (Click ABOUT to see more "about" Barb the person.)
Barb did not complain, never once did she say, "Why me?" or "Life's unfair."  Instead, she focused all her energies on working to create awareness for this disease that afflicts a quarter million Americans a year, including 30,000 people – mostly women – who like, Barb, never smoked. To continue Barb's passion for action, we've embarked upon a "race" to the cure – and we invite you to join us!
The King5 news clip (NBC, Seattle, to the right) shows the success of Barb's Beer in Seattle.
THE PROJECT:
Barb's husband, Tom, created the Barb's Beer Foundation with their daughter, Caitlin, son-in-law, Justin, and family and friends. The Foundation, a non profit 501c3 charity, lines up quality breweries in local communities to produce Barb's Beer, a light-bodied American pale ale. Next, we recruit restaurants and taverns in those communities to serve Barb's Beer. It's the sale of Barb's Beer at our partner restaurants and taverns that generates the funds. Those funds support Grace (cancerGRACE.org,) a charity established by Barb's oncologist, Dr. Howard West, a physician at Swedish Hospital in Seattle and one of the country's leading experts working for a cure.
RACING TO CURE LUNG CANCER: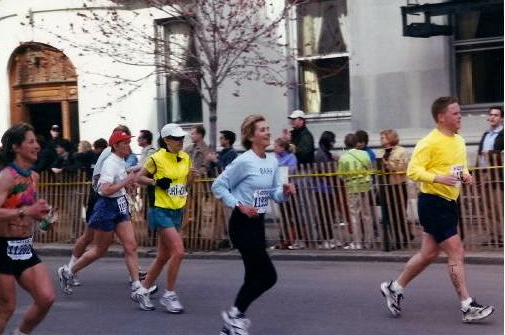 Barb was an avid marathon runner. She and Tom ran more than a dozen marathons together, including New York and Boston. The Barb's Beer logo is a silhouette of Barb crossing the finish line at the 2000 Boston Marathon, left.
As an extension of her passion for running, we call our campaign "Racing to Cure Lung Cancer."
We invite you to join our "Racing to the Cure" team. You don't have to be a runner in singlet and shorts to be a team member, you just have to want to cure lung cancer!
NOTE: Tom will run the BOSTON MARATHON April 18 to generate awareness for Barb's Beer and our "Racing to the Cure" campaign…
Learn how you can SUPPORT TOM'S RUN in two ways!
A GREAT TASTING PALE ALE: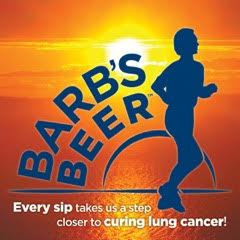 The recipe for Barb's Beer was created by Chuck Hohing, a Bellingham, WA brewmaster. Boundary Bay, a leading brewery in the NW, brews the beer with careful oversight by brewmaster, Bryan Krueger. Read about our beer! Barb's Beer is a great-tasting American pale ale.
Barb's Beer was "launched' on July 1, 2014 at LaFiamma Wood Fire Pizza in Bellingham, WA, Barb's favorite restaurant and the first to put Barb's Beer on its tap.
The coaster on the right shows the logo of Barb crossing the finish line at Boston in 2000.

Led by LaFiamma, the "Proaction of Pizza" theme was picked up by Mike Mackley, GM of Serious Pie Westlake, a Tom Douglas restaurant in Seattle, and by Joe Fugere and his chain of Tutta Bella Neapolitan Pizzeria restaurants in Seattle.
Other restaurants joined the cause – including Roberto's Venetian Trattoria in Pike Market, Belltown Pub, Tulio Ristorante (Hotel Vintage,) Bell + Whete and Mars in the University district in Seattle and Cafe Akroteri and Keenan's on the Pier in Bellingham. We're grateful to all those who are helping us build a strong foundation for the Barb's Beer campaign in the NW.
This is giving us a platform to expand nationally, including NY and Boston, where we're laying the groundwork. The more restaurant and tavern partners we sign up in communities across the US, the more we can help Dr West move toward his goal of crossing the "finish line" and ending lung cancer. THAT would please Barb no end!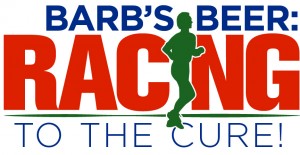 If you haven't signed up to JOIN OUR TEAM, do so today! You'll get our newsletter with latest updates and a chance to win prizes, including "Barb's Beer26" Certificates at our partner restaurants and taverns. Just enter your email BELOW to sign up!
COMING April, 2017: An updated version of "Just Call Me Jock!"
In 1982, Tom Murphy and Olympian and Boston Marathon champion John J. Kelley, wrote "Just Call Me Jock."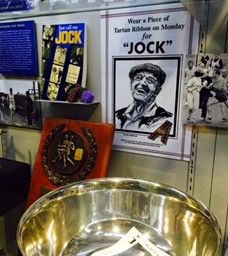 The book
"Just Call Me Jock"
(1982) occupies a spot in the trophy case at Boston Athletic Association headquarters in Boston.
The book offers a history of the Boston Marathon as seen through the eyes of Jock Semple, legendary Boston Marathon figure (Jock ran his first Boston in 1929 and later served as co-director into the 1970s.)
The 2017 Boston Marathon will mark the 50th anniversary of Jock chasing Katherine Switzer down the road in the 1967 marathon to "retrieve" the Boston Marathon number he gave her by mistake, he said, after Katherine applied as "K." Switzer. Jock believed he was just "protecting the rules," but photos of Jock getting pitched into a ditch with a shoulder block from Kathy's boyfriend ran page one around the world – and Jock's chasing Kathy that day effectively helped usher in women's running in America.
"I made Kathy famous and myself infamous," said Jock, who became great friends with Kathy once the rules were changed by 1972. Look for an updated edition of "Just Call Me Jock" in time for the 2017 Boston Marathon. Tom will donate all proceeds from his share to the Barb's Beer Foundation.
Two new items:
RUNNER IN RED


Tom Murphy's novel based on a Boston Marathon legend, raises funds for the Barb's Beer cure lung cancer Foundation.

See more, and order here:

TALES OF THE TIMES


The Barb's Beer Foundation is proud to be the publisher for Bob Hodge's wonderful memoir.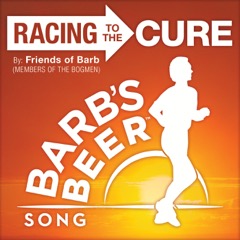 Members of a highly popular NY band, 'The Bogmen', created a song for Barb's Beer called 'Racing to the Cure' (the Barb's Beer Song).  P.J. O'Connor and Brendan and Billy Ryan, took  lyrics by Tom Murphy, Barb's husband, added a warm, inspiring tune and perform the song as, "Friends of Barb." Preview our Barb's Beer song below, then download it to support the Barb's Beer cause!
Visit SLIDE SHOW to hear the song played out against photos of the campaign in action.
To Download the Song,  CLICK HERE