Thank you for adding your name to our Racing to the Cure ROSTER!
STAY TUNED for the announcement of our PRIZE POOL – which will be introducing along with expansion of Barb's Beer to Boston and the east coast in early 2017.
More news to follow!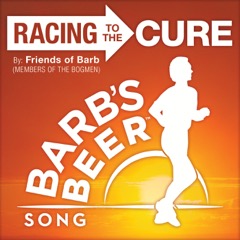 Members of a highly popular NY band, 'The Bogmen', created a song for Barb's Beer called 'Racing to the Cure' (the Barbs Beer Song). P.J. O'Connor and Brendan and Billy Ryan, took lyrics by Tom Murphy, Barb's husband, added a warm, inspiring tune and perform the song as, Friends of Barb. Preview our Barb's Beer song below, then download it to support the Barb's Beer cause!
See SLIDE SHOW where Racing to the Cure plays over photos showing Barb's Beer in action.
To Hear and Download the Song,  CLICK HERE